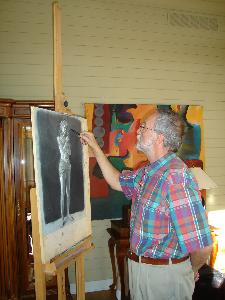 I am a visual artist with some art school training but am mainly self taught. I basically dropped out of school because I did not fit in and believed that independent study would benefit me more than the rigidities of academic studies.

My primary interest is figuration. Another is color and shape.
I share a website with my wife Joanne, an abstract painter.

I have worked in a wide range of media: engraving on copper, drawing in metal point (24 karat gold and sterling silver on specially prepared paper and illustration board), photography (small and large format, oil, casein, egg- tempera, graphite, pastel, copper engraving, pen and ink, gouache and charcoal.
My paintings and drawings are in private collections in Toronto, Paris (France), Jackson Hole, Denver, San Antonio (Texas), and San Miguel de Allende (Mexico).
My stock photography is handled by CMSP in Chicago.
Since my earliest years I have drawn and painted. I have taken numerous courses and studied with Robert Liberace and Armin Mersmann at the Colorado Academy of Art, Yuqi Wang at the Andreeva Portrait Gallery and
School, the late Dr. Friederich Gisevius in Germany, Robert McCoy at the the Coppini Art Institute in San Antonio, Peter Mah at Guelph University, Dennis Olson and Kent Rush at UTSA and, most recently,Andrea Kemp at the Art Students' League in Denver. I also had classical atelier training at the Colorado Academy of Art from 2005-2006. In addition to working as a visual artist I practice psychiatry in Denver after completing a psychiatric residency at the University of Texas Health Sciences Center at San Antonio. I specialize in the treatment of depression, anxiety syndromes, PTSD, the psychological consequences of abuse and stress related/psychosomatic medical disorders, my web site being www.psychiatryandcounselingassociates.com. My dedication to work in the arts in an integral part of my professional and private life.
Exhibitions:
2004 Bella Casa (San Antonio)
2004 Hemisphere Gallery at the Dallas Trade Center
2005 CAA Group Show (Boulder)
2005-2006 Avery Jordan Galleries
2006 Architectural Digest Home Design Show NYC.
2007 Space Gallery Denver
2007 CAA Gallery Boulder, a finalist in the annual national drawing competition
2007 DEN Gallery Denver
2007 Exhibitrek Gallery Boulder, Colorado
2007 Home Gallery, Golden CO
2008 Ditto Gallery, Denver CO